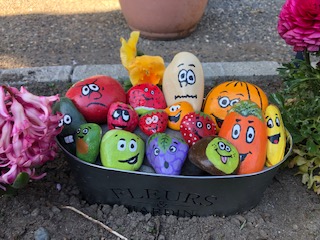 ***I have included a variety of worksheets at the bottom; some are easy, some are hard and some are just right! Not all worksheets are for all students. Please check with me if unsure. Please remember that these worksheets are optional!
Hello parents,                              ****NEW****
It's the last week of a very strange school year. This will be my last update on my homework for the year. 
A week ago, I emailed on how to claim their free book voucher from scholastic. Email me for the code if you need it.
There will be the opportunity on Wednesday, June 24, between 10 and 11:30 for elementary students to drop by, grab their report cards and say goodbye to their teachers. Hope to see you all there! Unfortunately I will not have their published books. They haven't been shipped yet :( I will email all families once they arrive and we can make arrangements. 
Please note that the following assignments are only for the online students. The students coming to school will complete these at school.
I uploaded 3 assessments 2 weeks ago. 2 SNAPS and a Reading Assessment are available in Assignments on the General channel. These assessments will NOT be on their report cards. They are an assessment to pass on to their grade 5 teacher so their new teacher will have a good indication of how they can support your child in the best way possible. The SNAP is not new to the kids, they actually practice this format quite often at school. It's very important that they do not receive parent help, other than reading directions if need be. For the Reading Assessment, you are welcome to read the article to them but please don't help them answer any questions. If the question is confusing to them, you may re-word it. Please just ask them to do their best :) Thank you in advance!
I'm not adding any new assignments this week, please just complete the assignments that are incomplete. For those kiddos who have completed everything, there are new worksheets attached to the homework board. Also, make sure to keep reading and practicing your multiplication facts
Thank you to everyone who has completed the division assessment. Don't worry if you haven't got there yet. I have the next 2 Fraction lessons uploaded in assignments, only Fraction Lesson 4 has a video and it's a 2 part one. Fraction Lesson 5 does not have a video. The kids should do the example at the top of the page and if it still doesn't make sense they can ask me for help on Friday.It's okay if it is late, I just have to give a deadline to encourage completion. The division assessment needs to be completed without help and must not be done until all 13 division lessons are completed. 
I have Chapters 1-9 of The Incredible Journey recorded on the Reading Channel. Assignment 1 and 2 are in assignments on the General channel. Chapter 10 and 11 will be uploaded this week
The last Science Assignment is in Teams. They have 3 experiments to complete. The first one is all about observation. The next 2 experiments are student/parent choice between #2-7. There are Scientific Method worksheets to fill out for 2 experiments they choose. The Social Studies Assignment is uploaded.
Last but not least, Silent reading for 30 minutes a day is very important! :) 
Mrs. Anglehart
E-Learning Expectations
1)     Please be respectful. This is the most important for all online interaction. Do not mute or unmute anyone!
2)    Do not record or take pictures of students/teachers.
3)    No spamming the chat window on the meeting. Only answer the question(s) that are being asked.
4)   If you say something disrespectful, the teacher will mute you and second warning you will be removed and not welcomed back to that meeting. 3 Strikes you're out.
5)    Wait your turn to talk, your teacher will tell you.
6)   Use the chat window to communicate with your teacher:
Q for question, A for answer, S for share
I will unmute you when it is your turn.
7)    Wear appropriate clothing.
8)   No playing video games during class meeting.
9)   No eating during class meeting.
10)                       Be ready to learn and have fun!
UPDATE FOR DIVISION 4 on TEAMS:
PRIVATE CHAT OR GENERAL CHANNEL IS NOT A PLACE TO START A CONVERSATION WITH YOUR FRIENDS. WE WILL ONLY BE USING THESE CHAT/CHANNELS FOR EDUCATIONAL CONVERSATIONS, RESPONSES and LEARNING. 
YOU ARE WELCOME TO USE THE CHAT CHANNEL (UNDERNEATH THE GENERAL CHANNEL) TO POST WITH YOUR FRIENDS DURING THE DAY ONLY. THANK YOU
 MRS. ANGLEHART
Daily Homework (updated daily)
Dear Students,                                                        March 30, 2020
We are a part of a living history. This Pandemic is something that will be talked about for years to come. The whole world went on pause! One suggestion is to journal your thoughts, feelings, and daily activities. You can handwrite, type, draw, and record via video (get your parents to interview you or you interview your family). I would love to read it or watch it sometime. Make sure you date every entry. Most importantly keep it in a safe spot. This is something you will show your grandchildren one day. This is also a primary source for historians in the future. Have fun with it! I missed seeing your cheerful and inquisitive faces this morning. I hope we will be together soon.
♥ Mrs. Anglehart
Class Meetings are on Mondays, Wednesdays and Fridays @ 10am
Q. How does my child log onto Microsoft 365?
Step 1: Go to sd33.bc.ca and search 'Microsoft 365'
Step 2:  Click the link 'For Students' (this will take you to a page with detailed instructions about how to login and it also contains a link to the login). 
Step 3:  Click https://login.microsoftonline.com
Step 4:  Login email is student#@sd33online.ca and password is whatever your child uses to log onto a computer at school.
Step 5:  Click on the blue 'Teams' icon at the top of the page (You will notice that your child has access to Word, Excel, PowerPoint, etc.)
Step 6: Click on Mrs. Anglehart's Division 4 icon, you will be in the "general" channel.
Step 7: At the very bottom where it says "start a new conversation" type in Hi and answer the question. What is your favourite colour?
Online Student Outline For June 22-25
GOODBYE AND PICK UP: On Wednesday, June 24th from 10am to 11:30am come by to pick up your report card and say goodbye to your teacher :) Hope to see you there! 
SELF-ASSESSMENT: I emailed a 2 page self-assessment to your parents, please answer this in your own words.
ASSESSMENTS: These are important indicators for their fifth grade teacher. Two SNAP (Math) Assessments are uploaded in Assignments. The students must complete these without parent help. This format is not new to them, they practice this quite often. The Reading Assessment has been uploaded into Assignments as well.
SOCIAL STUDIES: See the Socials Research project in Assignments. I can't wait to see what you dig up.
SILENT READING: Read 30 minutes daily and add an entry in your reading journal. Post in the Reading channel under the appropriate date. Don't Forget!
READING: Listen to the read aloud for The Incredible Journey, Chapter 1-9 is available in the Reading Channel. Assignment #1 and 2 are available in Assignments on the General channel. 
MATH: Division Assessment is ready to be completed, NO parent help please. 5 Fraction Lessons have also been released. These are available on the Math Channel and under Assignments in the General Channel
WRITING: Write for 20 minutes: Find a comfortable, quiet spot and get started right away! Suggestions: grocery or party list, journal, letter, newspaper article, poem, complaint to a company, story, comic strip, or instructions on how to do something.
SCIENCE: Complete Assignment 1 and 2. Assignment 3 is ready to go. Have Fun!
CHALLENGE JUNE 22-25:  Tell me one thing you are excited about for summer, 1 thing you enjoyed about online and/or social distancing class and 1 thing you wish was different this school year.
 Reply to the post on the CHAT channel only. 
LIBRARY: Mr. Walker recorded a read aloud, click the link below and scroll down to listen to the first 5 chapters of "The Magician's Elephant." https://rtcs.sd33.bc.ca/reading
Maker Space channel: Maker Challenge (optional) See my NEW post in the channel, if you choose to meet my challenge follow the directions and don't forget to share your finished work. Please note the list of supply suggestions from your home at the top of the page.
COMPLETED ALL ASSIGNMENTS? Read, write and practice basic math facts. There are also worksheets available to test your knowledge uploaded to this page. Just scroll to the bottom.
CURSIVE: complete 1 page of your cursive writing book. 
MATH GAMES: Multiplication facts/fact families,Math review sheets (see attached for worksheets or play multiplication war)

play crib or monopoly with your family